Oregon's Premier Natural Medicine and Hormone Therapy Provider
Oregon Natural Medicine, located in Portland's historic Hollywood neighborhood.
Our Passion for Natural Health and Hormones
Our goal is to provide exceptional holistic healthcare at a reasonable price. Our holistic physicians have a special interest in women's health, men's health, nutrition and hormone management.  In addition, we treat most common (and many uncommon) health complaints.  We also offer radiation-free thermograms for health and breast screening.
We believe it is important to take the time to listen to our patients health concerns. Additionally, it is our goal to provide complete wellness services for your whole family. We utilize the most current research and understanding of hormones, nutrition, botanical medicine, homeopathy, manual therapy and pharmaceuticals in developing an individualized treatment plan for you and your family. We work with you to develop a plan that meets your needs.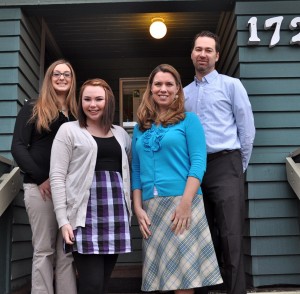 We always work to provide the safest and most effective treatments to our patients, while explaining the benefits and risks of all treatments. We hope you will choose to begin your new life of health and happiness with us.
Oregon Natural Medicine provides Natural Health services to the families of Portland, Oregon and the surrounding communities. Our beautiful clinic is conveniently located in NE Portland, in the Historic Hollywood District.
Naturopathic Medicine
Our physicians strive to provide comprehensive, affordable, natural and holistic health care to women and men of all ages. Our physicians have a strong interest in healthy aging and hormone replacement.
Dr. Jarvela has a special interest in Women's Health, Hormone Balancing, Thyroid Conditions and Weight Management.
Dr. Reynolds area of interest is Natural Hormone Replacement, Healthy Aging and Pediatrics. Dr. Reynolds is experienced in treating complex hormonal issues for both men and women. Additionally, Dr. Reynolds dedicates part of his practice to laser therapy. He treats musculoskeletal complaints and toenail issues.
Dr. Reive-Schmidt has a special interest in treating hormonal imbalances, mood disorders, allergies, autoimmune conditions, and thyroid concerns.
She is experienced in bio-identical hormones, neurofeedback therapy, homeopathy and detoxification.
Breast Thermography & Medical Thermography
Oregon Natural Medicine is one of the few clinics in the Northwest to offer Breast & Medical Thermography. All imaging is done by physicians at our clinic. Thermography is radiation-free and compression-free. It provides safe breast and health screening utilizing digital-infrared technology. All images are read and interpreted by Medical Doctors.
Laser Nail Treatments
Laser nail fungal treatment is always performed by our physicians. This holistic, non-invasive, non-surgical procedure is quick, safe and highly effective in treating fingernail and toenail fungus. Heat and light from the laser are used to eradicate fungal organisms while not damaging healthy surrounding tissue.
Call us today at 503-946-8700
---
---
Natural Health and You:
---

The most current information related to holistic and conventional medicine and how it relates to you.  Keep informed and make the choices that are best for you and your family.
Read More…
Food as Medicine:
---