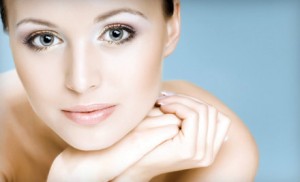 Intense Pulsed Light Treatment (IPL)
IPL is an innovative treatment used for photorejuvenation of the skin and hair reduction.  IPL's skin rejuvenation treatment is used to reduce pigmentation and help with small vessel clearance as well as fine lines and wrinkles.  Through pulsed light  clearer, less red and inflamed skin emerges . IPL treatment systems deliver pulses of broadband incoherent light with wavelengths of 400nm to 1400nm.
Pulsed light therapy delivers energy to target areas and destroys vascular and pigmented lesions associated with spider veins, reticular veins, rosacea, telangiectasias, hemangiomas, sun damage, age spots, dyschromia, melasma, poikiloderma, and angiomas from hands, legs, chest, arms and face.
Frequently Asked Questions:
What is IPL photorejuvenation commonly used to treat?
IPL most commonly is used to treat age spots, discolorations, rosacea, and sun damaged areas of the body. IPL stimulates collagen production and helps with cellular renewal.
What areas of the body is it most often used on?
Although IPL may be used on most skin surfaces, it is most often  for lightening and reducing redness of the face, neck, hands, arms and chest.
Are there any other benefits to IPL treatment?
It may help improve skin texture by stimulating collagen production.  Additionally, is can improve pore size.
How many IPL treatments are recommended? 
IPL Photorejuvenation usually consists of a series of 4-6 treatments. These are performed sequentially every three to four weeks.
Is there anything I need to do prior to  my IPL Appointment?
Yes, there are a couple things to do prior to your visit.  Please review IPL Pre Instructions under this tab.
How long do IPL treatments take? 
Appointments take  30 and 45 minutes depending on the area of skin treated.
Is IPL treatment painful?
There is usually only mild discomfort during the procedure.  The first treatment often has the most sensation.  Often patients describe the sensation as feeling like a rubber band snapping against the skin.  For patients comfort a cooling gel is applied to the skin prior to treatment.
Are there any side effects to IPL treatments?
IPL has a strong track record for safety. Sometimes a few  mild side effects are reported including swelling, redness and/or discomfort. These are typically only reported for the few hours following the treatment. There is very little  recovery time following IPL  treatment.  Most patients can return to work and participate in their normal daily activities immediately after the treatment.
Contraindications To IPL Treatment:
● Pregnancy
● Deep Suntan – either from natural sun, sunbeds or fake tan with lotions or spray (book your laser appointment at least 2 wks AFTER sun exposure as the laser is attracted to the melanin in suntanned skin)
● Photosensitive conditions
● Cancer, especially skin cancer or if undergoing chemotherapy treatment
● The recent or regular use of certain drugs- such as photosensitive anti-biotics, anti-biotic creams or gels, Roaccutane, herbal St John's Wort, anti-coagulants, Gold medications or Retin A prescribed by a GP.
● Recent injectables or Botox in the area (1month apart from Laser treatment)
● Recent surgery in the area
● Healing Disorders- such as Diabetes Mellitus, lupus or radiation therapy or chemotherapy
● History of keloid scarring (thick dark scarring)
● Open wounds or lesions near the area
● Herpes Simplex (cold sores) We can treat you if a cold sore is not present, as long as you understand that laser can, in some instances, trigger the onset of a cold sore
● Epilepsy
● Hepatitis/HIV
● Lymphatic/Immune System disorders
● Psoriasis/Eczema in the area on the area to be treated
● Steroid Therapy
● Raised moles and Birthmarks at site of treatment
● Tattoos and Permanent Make-up in the area to be treated (These can be avoided if necessary)
* If you have one or more contraindication please call (503)946-8700 to find out if they would preclude you from this therapy or to discuss other treatment options.  
Research regarding IPL treatment and its effectiveness:
Randomized Study of Intense Pulsed Light and Pulsed Dye Laser in The Treatment of Facial Telangiectasia
McMeekin T., Lertzman B., Hahn H., Arcara K. Lasers in Surgery and Medicine,2008. (Abstract.)
Comparison of StarLux LuxG with Long Pulsed PDL, Long Pulsed KTP, and Traditional IPL for Treatment of Telangiectasias
Miranda C., Narurkar V. Lasers in Surgery and Medicine, 2006; 70.
(Abstract.)
Comparison Treatments for Vascular Lesions with the Vbeam® and the StarLux IPL
Kim K., Berenstein L., Chapas A., Geronemus R. Lasers in Surgery and Medicine, 2006; 242.
(Abstract.) (Vbeam is a registered trademark of Candela Corporation, Wayland, MA)
Split-Face Skin Rejuvenation of Photo-Aged Skin Comparing Palomar Pulsed Light System and Syneron ELOS Technology 
Ditre C., Klingman A. Lasers in Surgery and Medicine, 2006.
(Abstract.)
Call us today at 503-946-8700 or Click "Schedule Now" to instantly book your appointment online: